This year marked the first anniversary of the Success Lab, and Next Up Foundation has become well-known in the neighborhood. By July, new kids were signing up to join Next Up in packs of three or four nearly every day. Young, local skaters were eager to escape the fierce summer heat, but also quite curious to see what goes on inside these walls. As the crew grew, our space stayed the same size. Skateboards began piling up in corners, taking over hallways, and hogging chairs. People were tripping, and slipping, and practicing kick-flips on the carpet. Something needed to bring order to the chaos.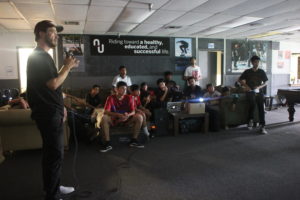 Then Keen Ramps came to the rescue. Cory Keen packed his truck with supplies and dropped in on the Lab, prepared to give our kids a little taste of life as the founder of a skateboard ramp company. We learned about his story and what daily life is like for the entrepreneur, who handles just about every aspect of the business himself (accounting, marketing, design, construction, you name it). School, Cory argued, is more important than you think; all the little skills that come from being a good student are vital in creating a successful life as an adult. Our friend is a living example of skateboarders who do it right. Thank you for being a positive role model, Cory!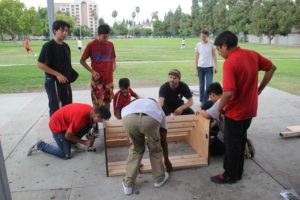 After the presentation, it was time to break out the power tools. Keen Ramps kindly donated a set skate racks and a sweet little quarter pipe, and our handy little crew constructed them together in no time. Just like that we had the solution to our problem and a nice new element to help us grow our skateboarding. A warm shout-out to Keen Ramps for the love! Thank you, Cory!