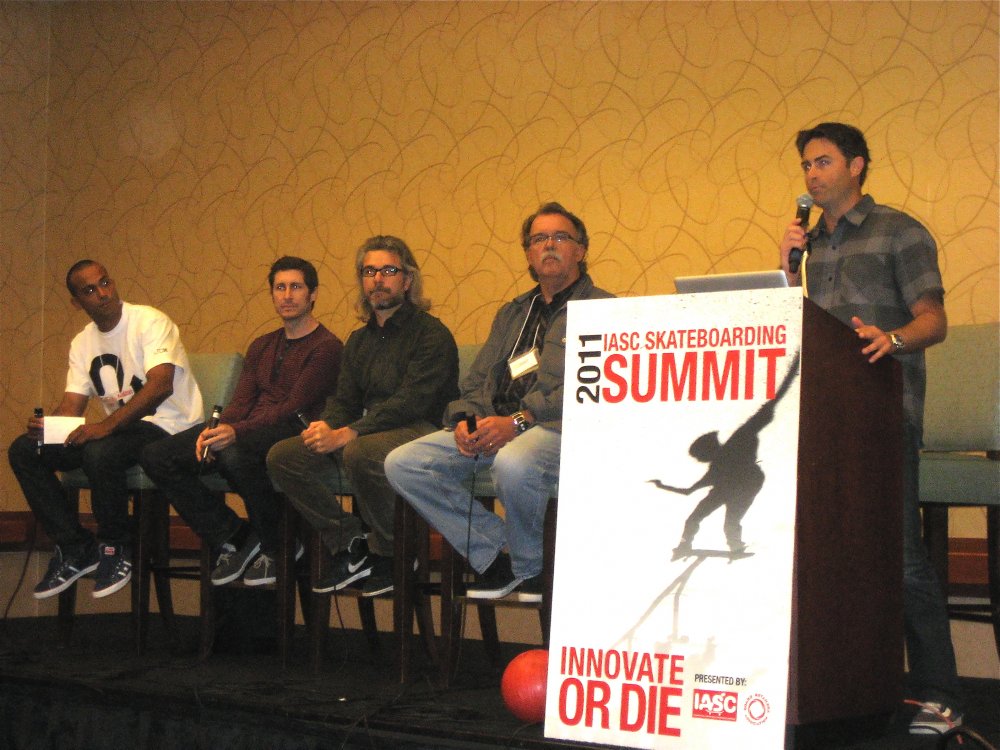 Transworld's Rob Campbell moderates a discussion on growing participation. Panelists from left to right: Next Up Foundation's Vinicius Tinoco, The Berrics' Steve Berra, Skatepark Of Tampa's Ryan Clements and Camp Woodward's Gary Ream.
The IASC Skate Summit returned to Orange, California, for another day of discussion-filled panels, with topics ranging from the role of skateparks and growing participation to the distribution dilemma.
Moderated by skate journalist Cullen Poythress, the first topic of the morning launched the audience into a candid look at skateparks from private park owner Ryan Clements of Skatepark of Tampa, builder and designer Joe Ciaglia of California Skateparks, and case study examples from Portland, Oregon's Department of Transportation Tom Miller and Tony Hawk Foundation's Peter Whitley.
The morning continued with a panel on managing pro athletes, moderated by TransWorld Skateboarding's Online Editor Blair Alley and made up of pro skateboarders as well as those who had played a mentoring role including Powell Peralta's Steve Caballero, Skate One's Michael Furukawa, Volcom's Remy Stratton, Black Box Distribution's Jamie Thomas and Baker Boys' Erik Ellington. The panel covered everything from ways to approach communication with team members to ensuring athletes balance the fun side of skateboarding with the business side. Panelists stressed the importance of fan relations and ensuring that pros truly understand how much their fans fuel their career.
Next up was TransWorld Media's Editorial Director Rob Campbell hosting a panel on growing participation, which brought together Ryan Clements, Gary Ream, Vinicius Tinoco, and Steve Berra to generate ideas on expanding skateboarding's demographic, which included contests, TV coverage, the international market, reassuring parents, and encouraging skateboarding as a high school sport. A large segment of the conversation centered around how the industry can give back, with testimonial from SPoT's Ryan Clements e about his "Boards for Bros" program, an effort focused on rebuilding old skateboards gathered at the park and distributing them to youth in underprivileged communities.
In the same vein, Vinicius Tinoco shared the inspirational story behind his own project, The Next Up Foundation, a skateboarding program in Anaheim, California, geared toward at risk youth. The foundation works to get brands involved by asking them to donate unused skate equipment and other products to children who otherwise might not have been able to afford it. Tinoco's call to action struck a chord with the audience and raised comments from several key industry figures, including Black Box's Jamie Thomas and Van's Steve Van Doren. Van Doren proposed the idea of involving the skater by asking them to give back unneeded equipment, which sparked Steve Berra, co-founder of The Berrics, to share an email he'd received from a 17-year-old skater about giving back to the skate community by donating older equipment he no longer used. Overall, the panel ended on a high note and left industry members chatting about news ways to work together to grow the sport.
After lunch attendees broke out into several workshop groups covering expanding on issues that had been addressed in earlier panels, working to facilitate discussions between manufacturers and retailers with the hope of creating clear action plans.
followed by a panel discussion on New Media with industry experts on the challenges brands, retailers and media are facing in the online, social, mobile environment of today and the future. What's working, what's not and why. The summit wrapped up with a look into the distribution dilemma, including what manufacturers and retailers really want, who's doing it right, and how the industry can make a change.