WE ALL KNOW THAT POSITIVITY IS CONTAGIOUS AND HERE WE HAVE A GREAT EXAMPLE OF IT! PLEASE MEET DEVIN PETER, AN INDIVIDUAL WHO LEFT HIS HOMETOWN CHIGACO,IL JUST TO GET INVOLVED WITH NEXT UP FOUNDATION. 
1.Name, Age , hometown and how long have you been skating?
Devin McGlinn, 24, Chicago, IL, and I have been skating for 8 years.
 2. How did you hear about Next Up Foundation?
I found about Next Up through The Berrics Website.
3. After coming across Next Up did anything in you change? If so, what exactly?
Seeing what Vina has created and how big of an impact it has on these kids really touched me. I want to inspire kids to pick up a skateboard and share with them my passion and love for the sport.
4. Is it true that you moved from your hometown in the Midwest just to get involved with Next Up? Explain that.
Yes, that is true. I was given the opportunity to pursue my dream of moving to California with support from the Next Up family. I've always wanted to be a part of the skateboard industry, and through the Next Up Foundation I've been blessed with the chance to teach and mentor these kids while still doing what I love most.
5. Why do you like to give it back to our communities? What's the importance of that to you?
I believe strongly in giving back to one's community, I have always felt strongly about that. The best part about giving back is receiving that high five or smile and those two simple words "thank you." I want everyone to experience how it feels to make a difference in someone else's life, big or small.
6. What are your intentions of being a Next Up mentor and being part of our family?
I intend on reaching out to as many of these kids as possible by teaching them how to Ollie, kickflip, heelflip, etc. while surrounding them with positive encouragement. Without any positive influences or encouragement, today's youth may easily fall victim to crime, drugs, alcohol, and violence. Skateboarding has and will continue to be an escape and a healthy alternative away from those negative influences.
7. Describe so far how has been your experience with Next Up.
My experience with Next Up has completely changed my life. I was one of these kids, going through life's ups and downs. What kept me going was my skateboard. I see the tremendous impact we have on these kids each week what it does to their self-esteem and confidence. That is what motivates me to come and share what I love to do with these kids.
8. Anything we should know about you?
I played hockey for 13 years before learning to skate and I have recently acquired a new love for learning how to cook. My favorite color is green.
9. Who is your favorite skater?
I would have to say that I look up to Eric Koston. I grew up watching him take skateboarding to another level, while making it look effortless.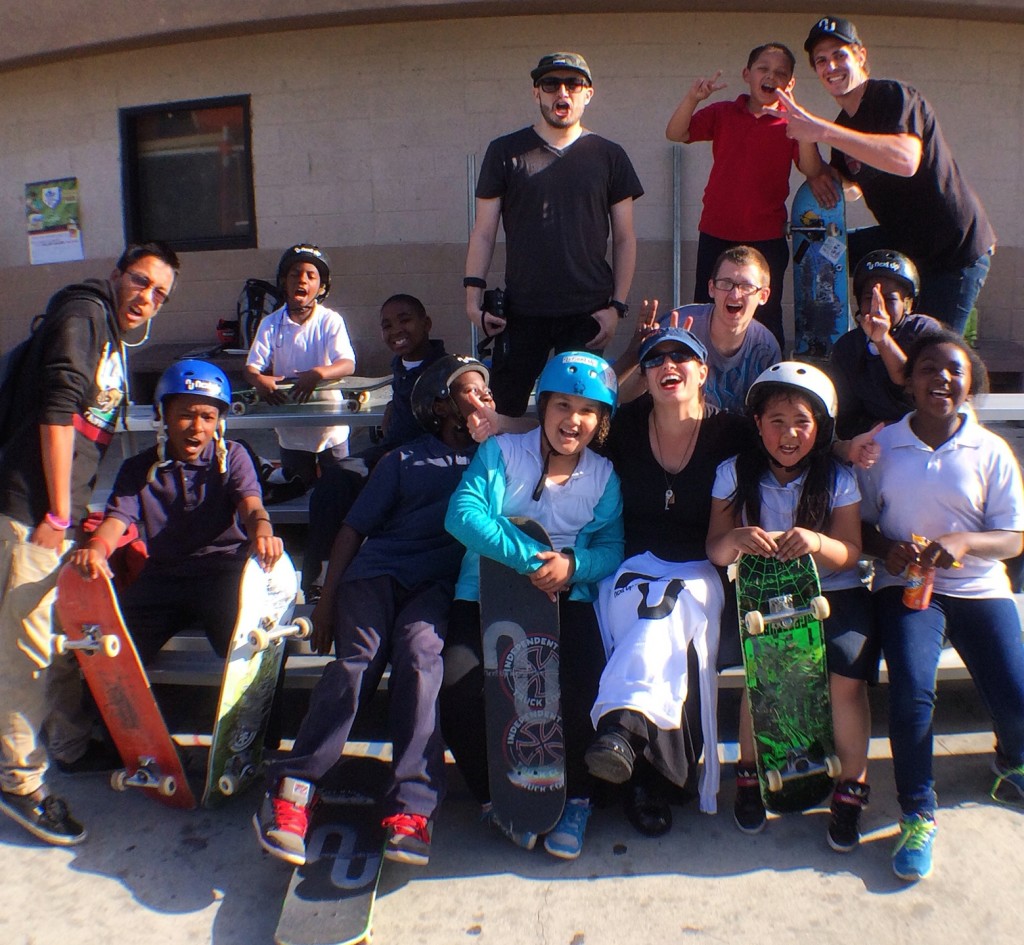 10. Leave your message
You dream it, you can do it!